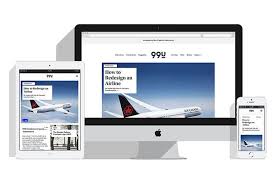 A good Website Design which is responsive is very important in online marketing and it can boost your digital marketing program by a great measure
What is a Website Responsive Design?
Website Responsive design adapts the display of your website to the size of the device screen being used. In means that based on the device being used i.e either Desktop, Tablets or Mobiles it auto-resizes the content and images on the website. In some cases, it may appear  slightly different with simplified content or a different navigation suited for the particular device.
Using Google analytics, businesses can realize where is the majority of their traffic coming from, is it from mobiles or desktops. If it is equal from both than they have to  convey an optimal user experience for both type of users. Hence having a website design which is responsive helps.
A responsive design if executed well, will ensure that navigation and images adapt attractively to desktops as well as mobiles. On mobile, the appearance of text is very important than on desktop, due to the limited viewing space available. Mobile-friendliness has to be an important criteria for for every business. A recent survey shows that implementing a responsive web design increased website rankings by almost 70% and mobile conversion rate by almost 25%.
Make your site easier to use on mobiles and tablets with a responsive design and have more visitors on your site stay longer and ultimately generate more sales.
Few other aspects to understand before designing a website which is responsive and helps to success in online marketing are:
Knowing who are the customers?
Where do they make come from?
What are they searching for?
Answers to these questions will help you develop a website which is having the relevant content as per the customers need for information. And having a responsive webiste design will ensure that it works perfectly on multiple devices . Search engines like google are able to locate the website easily if it using a responsive design template.
Learn this and much from experts when you enroll for Digital Marketing courses from us at Netpro Digital in Mumbai, India.